Chovatelská stanice - Staffordshire Bull Terrier
Chovatelská stanice
Ambassador Sun vítá na svých webových stránkách všechny milovníky plemene Stafordšírského bullteriera.




Welcome to our kennel
Nejlepší chovatelská stanice v České Republice 2020
3. místo
TOP KENNEL SBTC CZ - 2nd place in years: 2017, 2019
TOP KENNEL SBTC CZ - 3rd place in years: 2009, 2011, 2013, 2015, 2016, 2018
TOP KENNEL SBTC CZ in year 2014 - 7th place

TOP STAFF SBTC CZ 1st place
2006, 2007, 2009, 2014, 2017, 2019

TOP SPORTS KENNEL SBTC CZ for the year 2018 - 5th place
TOP SPORTS KENNEL SBTC CZ for the year 2017 - 2rd place
TOP SPORTS KENNEL SBTC CZ for the year 2016 - 1st place
TOP WORKING KENNEL SBTC CZ for the year2012 - 4th place



Absolutely the best sports dog SBTC CZ for year 2017
Absolutely the best sports dog SBTC CZ for year 2016
Imperial Attila Ambassador Sun




Úspěchy 2019 / Success 2019
TOP KENNEL SBTC CZ at shows in CZ 2019 - 2nd place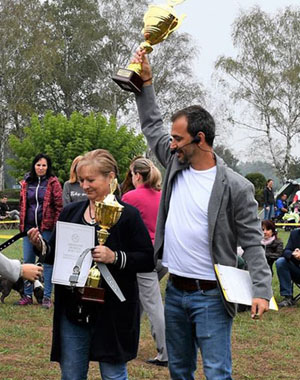 TOP STAFF SBTC CZ - 1st place
GrCh Absolute Belle Ambassador Sun
(Owner a handling Iveta Dlouhá)


Velký úspěch v Anglii na nejprestižnější výstavě CRUFTS 2019
Ivetce velmi moc gratuluji !!!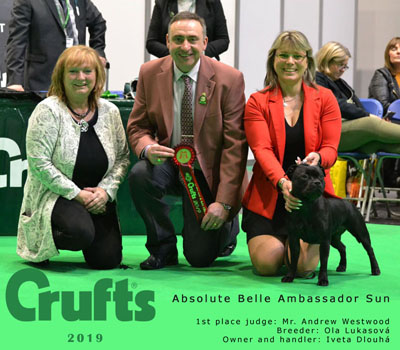 Úspěchy 2018 / Succes 2018
TOP KENNEL SBTC CZ at shows in CZ 2018 - 3rd place
Special Club Show Kolesa 2018
judge Mr. Raymond Crilly
C.I.B., MultiCh, GrCh., Xanterra Ambassador Sun
(Owner and handling Pavel Marek)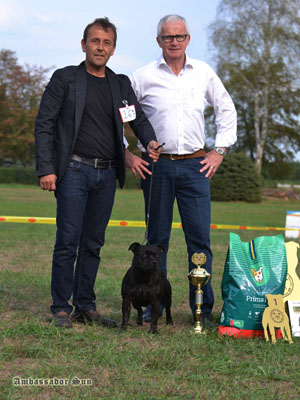 Club Show Náměšť na Hané 2018
Judge: Janet Higgins (UK), Marka A. Marshall (UK), Maureen S. Ward (UK)
JCh Absolute Belle Ambassador Sun - exc. 1, CAC, BOS


CLUB SHOW Poděbrady 2018 - judge: Mr. Jamie Mace
Zoey of Ambassador Sun exc.1, CAJC, BOJ - Junior class (50 female)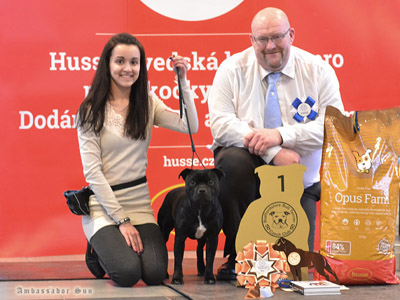 C.I.B., Multi Ch. Rich Man Ambassador Sun - exc.1, CAC-champion class



Success 2017/ Úspěchy 2017
Výstavně nejúspěšnější chovatelská stanice v ČR pro rok 2017 - 2. místo
The most successful at shows SBT kennel in the Czech Republic - 2rd place in year 2017


The best sports kennel SBT for the year 2017 in CZ - 2rd place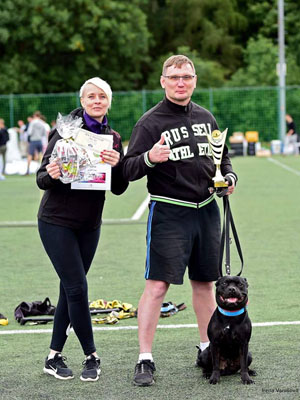 Absolutně nejlepší sportovní pes SBT v ČR za rok 2017-1. místo
Absolutely the best sports dog SBT for year 2017 in CZECH Republic
Imperial Attila Ambassador Sun - owner: Pavel Ország - 1st place


TOP STAFF SBTC CZ 2017
JCh, Ch Xanterra Ambassador Sun
Interchampion
Champion CZ, SK, PL,SBTC CZ , Junior Champion PL, SBTC CZ
Velké gratulace Pavlovi !!!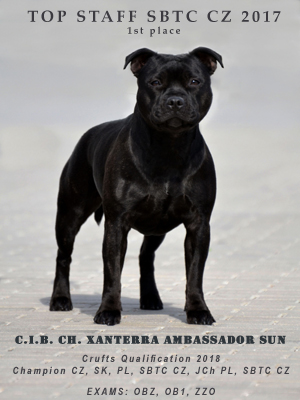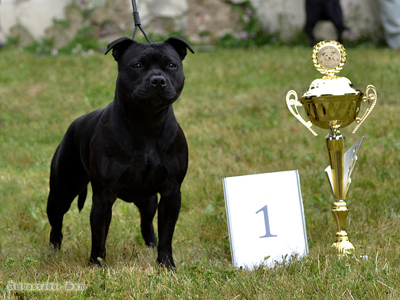 ISM Nederland 2017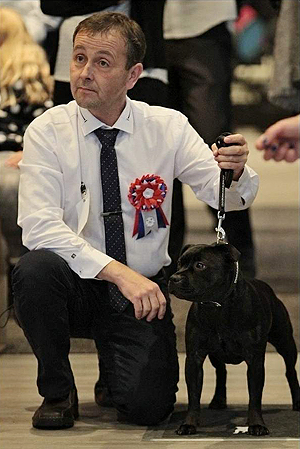 JCh, Ch Tap Dancer at Ambassador Sun ,,Fred,,
Champion CZ, PL, SBTC CZ, Junior Champion PL, SBTC CZ
Junior Club Winner Opole 2016 (PL), National Winner 2016


Club Winner Viničné 2017 (SK)
Special Terrier Show - Viničné 2017 (SK),
Judge: Mr. Frank Reader (GB)
excellent 1 CAC, CC, Club Winner 2017, BOS

Rich Man Ambassador Sun
Interchampion
Champion CZ, SK, PL, SBTC CZ


Success 2016/ Úspěchy 2016
The best sports kennel SBT for the year 2016 in CZ - 1st place


Absolutely the best sports dog SBT for year 2016
in CZECH Republic
Imperial Attila Ambassador Sun - owner: Pavel Ország - 1st place



Úspěchy 2015 / Success 2015
TOP Staffordshire Bullterrier Kennel 2011 in Czech Republik - 3rd place
Rich Man Ambassador Sun - 2015
CAJC, 7 x CAC, res. CAC, 2 x CACIB, res. CACIB, BOJ, BOS, BOB


TOP STAFF SBTC CZ 2015 - 5th place
Lawstaff Approval at Ambassador Sun - 2015
judge: Craig and John Scanlan and Martin Grimwood (GB)
Club Winner Kolesa 2015

Úspěchy 2014 / Success 2014
CH, JCH Lawstaff Approval At Ambassador Sun
,,Sunny ,,
TOP STAFF SBTC CZ 2014


QUALIFICATION FOR CRUFT´S 2015
INTERCHAMPION (is met condition)
Champion Czech Republic
Champion Slovakia
Club Champion CZ
Junior Champion Czech Republic
Junior Champion Poland
Junior Club Champion CZ
Special Club Winner Viničné 2014 (SK)
Club Winner Joe Mallen Memorial 2014 (A)
Special Club Winner Kolesa 2014 (CZ)
2 x National Winner CZ 2014
6 x CACIB, 6 x BOB
Special terriers show Viničné (SK) - Judge Mr. PETER RHODES
Excellent 1, CC, Danubius Winner and BOB

Rich Man Ambassador Sun
EUROPEAN PROMISE BRNO 2014
Western Staffordshire Bull Terrier Society - Championship - GB
QUALIFICATION FOR CRUFT´S 2015
Minor Puppy Dog and Puppy Dog Winner, BEST PUPPY DOG,
RESERVE BEST PUPPY IN SHOW



SBTC CZ - Breed Specialty Show Kolesa 2014 - 179 SBT entries
Judges: Mrs. Aneta Sobkowska-Dopierala and Mr.Jaroslaw Grunt
JCH Lawstaff Approval at Ambassador Sun exc.1, CAC, Special Club Winner, BOB, BEST HEAD
C.I.B., Multi Ch Nova Era Pullera - exc.1, BEST OF VETERAN and nomination Best Head
Rich Man Ambassador Sun - very promising 1
Rodi Ambassador Sun - very promising 1
Dix Ambassador of Moravia Knight - exc.1, CAJC
Poker Face of Ambassador Sun - exc. 1, CAJC, BOJ



Úspěchy 2013 / Success 2013
JCh, Club Winner 2013 Lawstaff Approval At Ambassador Sun

Notts and Derby District Staffordshire Bull Terrier Club - Championship 2013 / 200 SBT
Judge: Mr Jim Byrnes (Lackyle)
Junior class - 2nd place - qualification to Crufts 2014
Yearling class - 2nd place - qualification to Crufts 2014
NationalTerrier Club Championship Show Stafford 2013
Judge: Bill Blacker (CROSSGUNS)
Puppy and Junior Bitch Winner 2 x qualification to Crufts 2014
The Scottish Kennel Club Edinburgh 2013
Junior class - 4th place Res
Yearling class - 3rd place
DUO CACIB Komárom 2013
Judge: Malgorzata Jurek - Erenska (PL) exc. 1, CAC
Judge: Kubala Jaroslav (SK) exc. 1, CAC, CACIB, BOB, Derby Winner
Diky Vláďovi Erbenovi za perfektní prezentaci našich psů !!!
Terrier Club Show Viničné 2013
,,Sunny,,


Cruft´s 2013
Děkuji Kristýnce a Michalovi za perfektní prezentaci Ambassadorů v Anglii na Crufts 2013 !
JW´12, JCh Ileen Ambassador Sun - 3rd place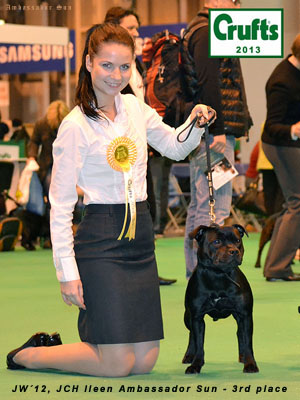 JWW´12, JCh Gretta Ambassador Sun - 4th place RES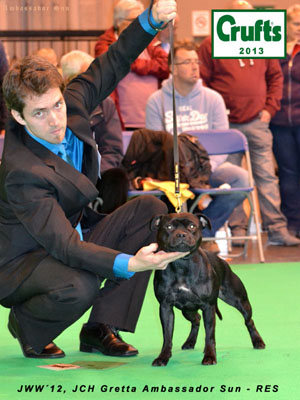 TOP Staffordshire Bull Terrier Kennel 2012 - working competitions - 4th place
Working Ch. Calderon Ambassador Sun
The best working dog SBTC CZ 2012 - 3rd place


Exams: BH, ZZO, ZM, ZOP, IPO-VO, FPr-1, ZPU1, SPr-1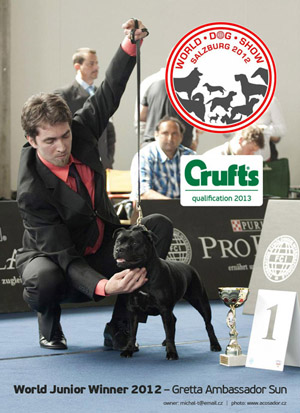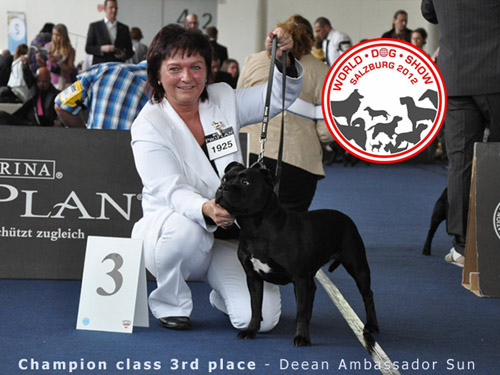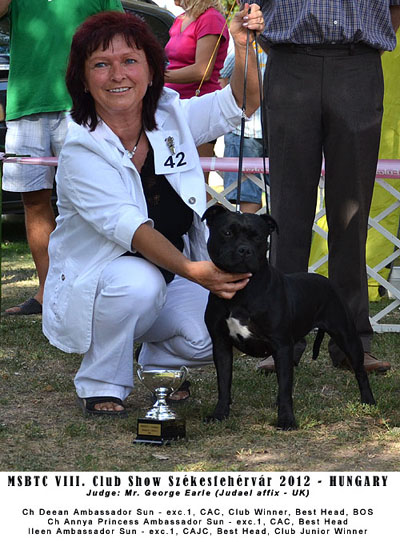 Úspěchy 2011 / Success 2011
TOP Staffordshire Bullterrier Kennel 2011 in Czech Republik - 3rd place
Úspěchy 2010 / Success 2010
Best Staffordshire Bullterrier Kennel 2009 in Czech Republik - 7th place


Úspěchy 2009 / Success 2009
Best Staffordshire Bullterrier Kennel 2009 in Czech Republik - 3rd place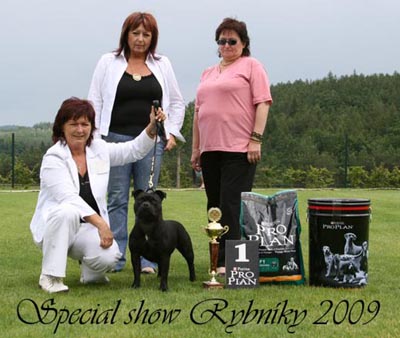 World Dog Show Bratislava 2009
Nejlepší odchov - Best progeny group 2nd place
ICh Nova Era Pullera
Vrh / Litters - A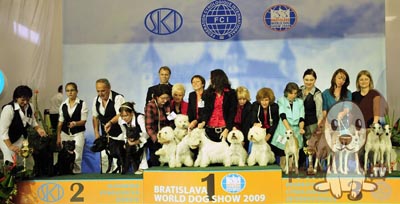 TOP STAFF SBTC CZ 2009 1st place
Multi Ch., JCh Armien Duck Ambassador Sun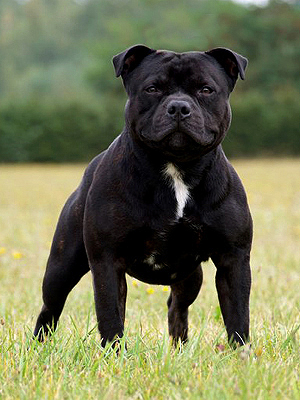 C.I.B., Gr Ch, Ch, JCh Annya Princess Ambassador Sun
V-CE TOP STAFF SBTC CZ 2009

World Dog Show Bratislava 2009 - excellent 4

TOP TERIÉR 2009 SKCHT a F 1st place

nejlepší teriér zahraničního člena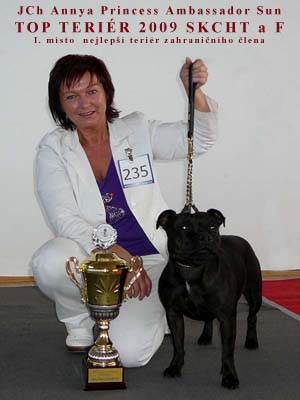 V-CE TOP STAFF SBTC CZ 2008

C.I.B., GR CH, Multi CH, JCH Nova Era Pullera

V-CE TOP STAFF SBTC CZ 2008
C.I.B., Multi Ch. Jacob ze Smiřické Zahrady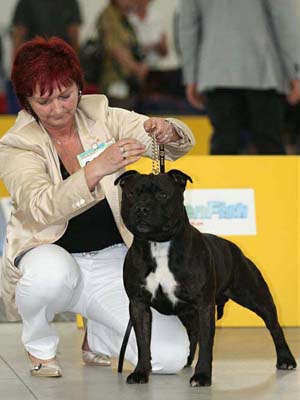 TOP STAFF SBTC CZ 2007
C.I.B., GR CH, Multi CH, JCH Nova Era Pullera

TOP STAFF SBTC CZ 2006
C.I.B., GR CH, Multi CH, JCH Jacob ze Smiřické zahrady